I am very interested in making the most of my space for my garden. While one option is to get rid of most of my lawn, which I do plan to do one day, I am currently courting less drastic options. Vertical growing is an excellent way to maximize use of space. There are many different ways that
plants can use their plant parts to climb
.
I am excited to apply vertical gardening to my squash plants this year, as they tend to sprawl out and dominate my garden. Sunset and others suggests using an arched or slanted trellis to grow squash and melons, because the trellis will allow for good air circulation, reducing mildew and keeping the squash from rotting. Some heavy dangling fruits require support like nylon slings to keep the fruit attached to the plant.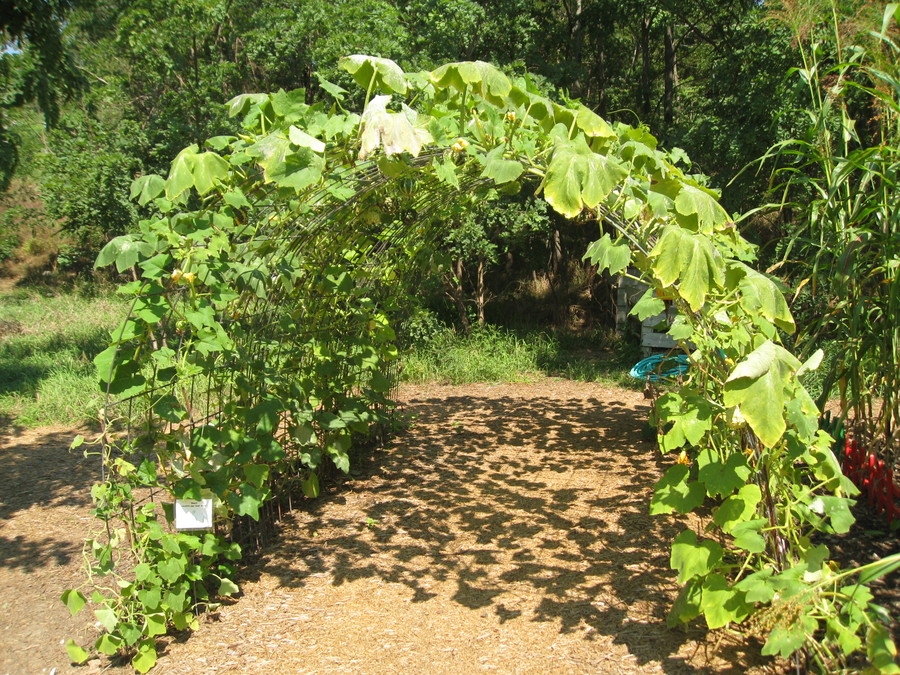 Picture of an arched squash trellis from computer programmer Jeff Epler's blog (http://emergent.unpythonic.net/)
A "cattle panel" fence piece used to create a slanted trellis for squash. This is the design that I will likely go with for my garden. This image is from the Trellis-netting company, which sells different types of vertical garden supports. Gardener's Supply also sells this item.
We also plan on growing my cucumbers vertically. I think we will use our fence trellis (pictured) to do this.
Veggie Gardener
has great instructions on how to build a cucumber trellis.
This year, we are going to try to use "poles" to support our pole beans. We planted two bean plants for each pole. As they grow, we plan to wrap them around each pole.
Here are the little bean plants near each pole.
We are also growing peas in our containers. We plan on using plastic "chicken fence" as a lattice for our peas. We will see how it goes. We are growing our peas closer together this year in an attempt to get a bigger harvest. Last year we yielded about 4 pea pods from our 4 pea plants growing on our fence trellis.
Here is an expanded view of one of our two pea containers.
Last year, we had a lot of trouble with the tomatoes being unruly and taking over the garden. We were using the
Ultomato tomato supports
last year with limited success. I might try a
different method
this year so my garden will be more orderly.
This photo is from Rick's Roots, where he describes a technique of using a weighted string to train tomatoes, while eliminating tomato suckers. The Plant and Plate blog has some good directions for string training tomatoes.
This website has many excellent budget trellis designs.