---
Time to get some cool season crops growing! Cool season crops can handle light frosts and low temperatures, especially if you use a hoop house or similar structure. However, most cool season crops cannot handle high temperatures.
---
You can start most of the plants listed above indoors to help get an early start. Root vegetables are usually better to sow directly, but I have known people to have success with everything indoors.
DigginFood
has some good lists on plants that are good to sow versus plants that better planted as starts.
This website
and
this website
also have pretty good discussions about planting seeds and planting starts.
I have started my leafy greens indoors:
Lettuce seedlings! My friend and personal extension agent, Brit, recommended I thin the seedlings down to two or three plants per spot.
Spinach seedlings. Some of them already have true leaves.
The kale seedlings are not germinating very well. I think there will be enough to plant and harvest.
The
Urban Organic Gardener
says its better not to start the following indoors:
Beens
Beets
Carrots
Dill
Garlic
Onions
Peas
Radishes
---
Cool season crops, like spinach, still need reasonable temperatures to grow. Here is a great picture
from an excellent USU publication.
It basically says spinach does best at 67 degrees F and can live between 36 and 84 degrees F. Spinach grown above 75 degrees will have a bitter flavor. Early in the season, a crop cover, like a low tunnel can help you keep your early season crop in that optimum range.
This figure, from the same publication, shows that a
low tunnel
can add make the air temperature up to 20 degrees F warmer.
I put up my low tunnel last week. All of the snow under it has melted and the soil is thawed. As soon as my baby plants grow a little more, I will thin them out and harden them off, then replant them.
WHEN TO PUT THE STARTS/SEEDS IN THE GROUND
---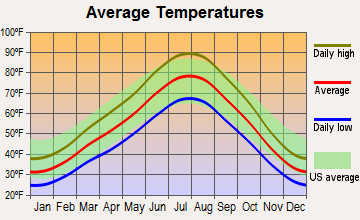 Average temperatures for Salt Lake City from www.city-data.com. This year temperatures a re lower than shown on this chart.
Frost dates for Salt Lake City area from http://climate.usurf.usu.edu/reports/freezeDates.php